Welcome to the Florida Retired Educators Association
Pension Questions about Tax Forms, Bank, or Address Changes etc.? Please contact the Florida Retirement System: 850-488-4742
Interested in FREA Members to hire or volunteer? 
Statewide or National organization/company? Click button at right to see the rates for advertising in the quarterly published FREA Bulletin. 
Localized organization/company? Please contact the Units in the area you need.  Click button at right to go to the Unit Contact page. (Not all Florida counties have FREA Units-see map at bottom of page.)
The History of the
Florida Retired Educators Day Proclamation
In 1979, FREA Member Fay M. Milton of MacClenny, FL began a two year quest to create Florida Retired Teachers Day.
The recognition for the day was first requested in 1979 and a proclamation was issued for the 3rd Sunday in October by then Governor Bob Graham.
In 1980 the proclamation was again requested and again Governor Graham proclaimed the 3rd Sunday in October as Florida Retired Teachers Day.
On June 1, 1981 the proposal was passed as a law that the 3rd Sunday in November would be recognized as Florida Retired Teachers' Day.   It was signed by Governor Graham.   This particular date was chosen because it is the Sunday preceding National Education Week, which starts the third Monday of November.
Wednesday Wisdom Webinars
Join fellow FREA members for an informative and entertaining hour once a month on a variety of subjects important to you. These webinars are filled with information on how to save money, live better, and have fun! The webinars will also have FREA news updates on Legislative activities, Convention updates, and other subjects important to FREA members, and all FRS retirees.   
Our popular segment "FREA Units in the Spotlight" will continue, where we speak with a Unit member and hear about the volunteer activities and/or fundraising accomplishments  of one FREA Unit during each Webinar. 
Registration links are below the descriptions. We look forward to seeing you soon!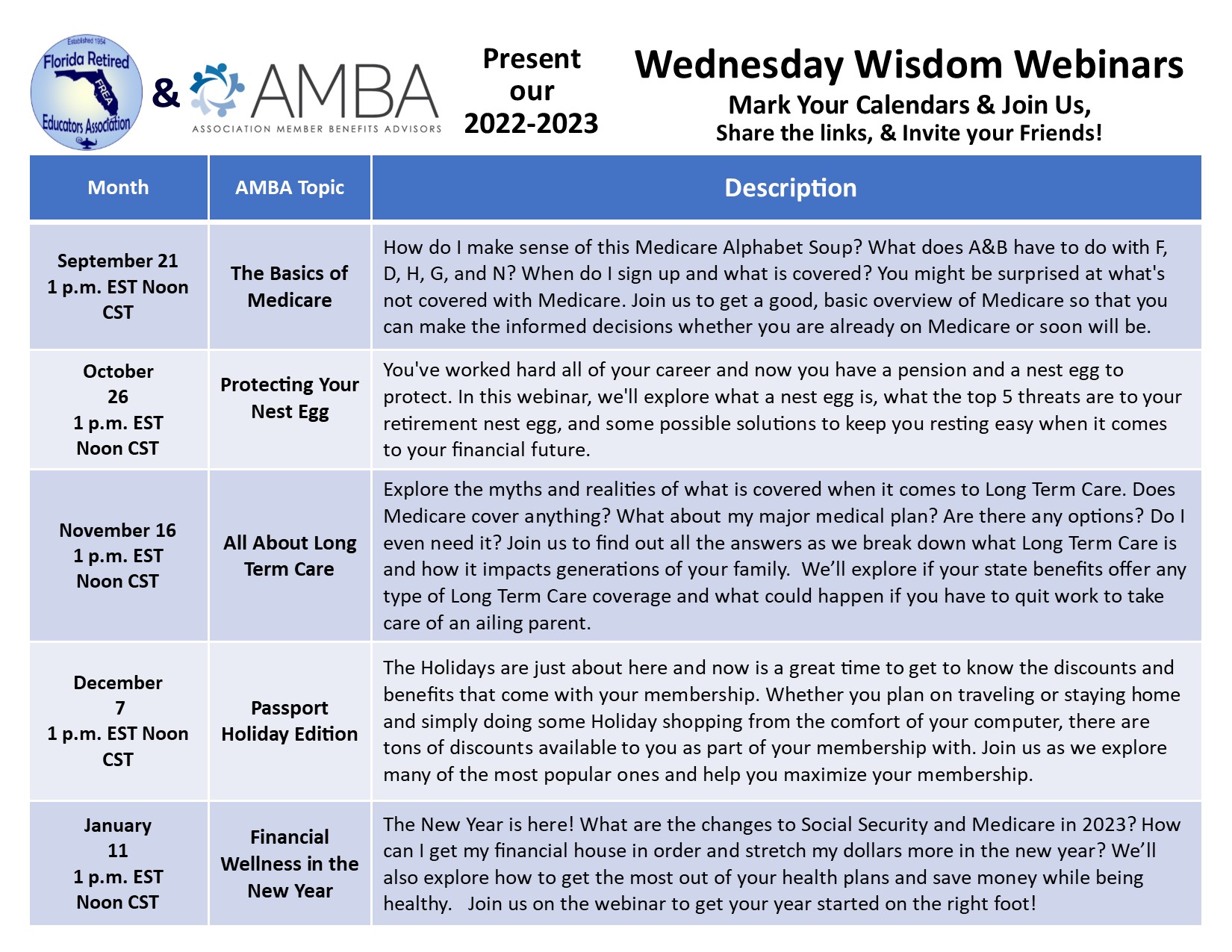 FREA Members Continue to Give Back and Enhance the World Around Them!