Welcome to the Florida Retired Educators Association

Talking points for calling your Legislator.
Modify to suit you or use as is. Try using the phrase 'Did you know…?' and then use a statistic from AARP in Florida Pension info sheets you can find here.   
Sample opening line for calling your Legislator.
It is a mistake for policymakers to switch new hire education employees from defined benefit pension plans to 401(k) type programs.
Examples:  
Did you know that the spending from pension benefits in Florida pays $5.9 Billion in wages to Florida workers through restaurants, retail, and services?

Did you know the average pension benefit is $1,894 per month? This allows retired state employees to have a modest and independent life in retirement. 

Did you know that pensions are a good deal for taxpayers? Investment income pays most of the pension: $71.3%; Employers pay $25.2%; and Employees pay 3%.  
Do you call your Legislator and then not know what to say?  A few tips in this document can help you make effective phone calls that make your point clear, and make an impact.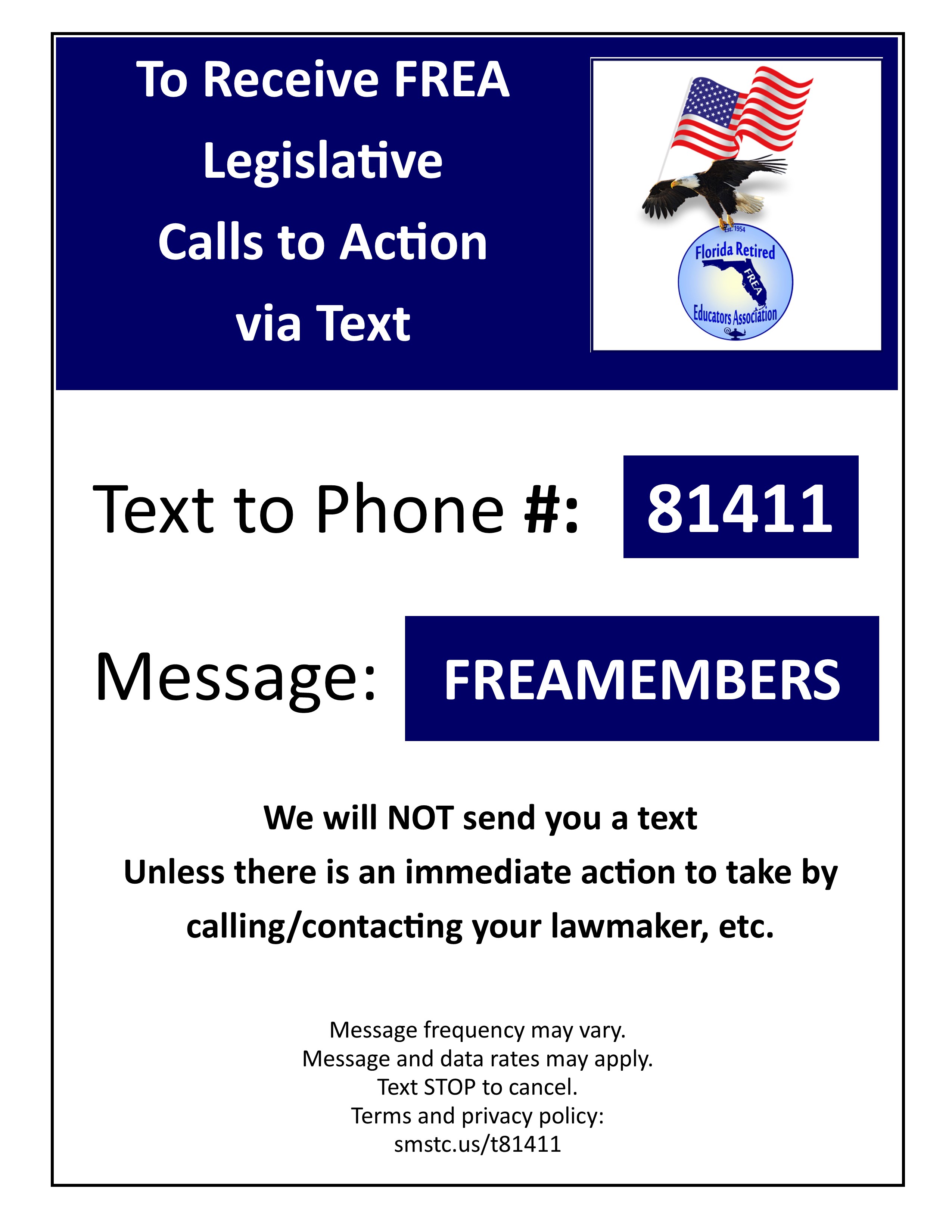 Update April 15, 2021
Bill to Dismantle the Florida Pension Fund Passed in the Senate, Moved To the House.
Senate-Passed Bill Eliminating Retirement Plan Choice for Public School Personnel is Big Mistake, Says Florida Retired Educators
Retired Educators Call on House to Carefully Examine Costs and Workforce Impacts of Any Pension Legislation
S.B. 84 is Fiscally Irresponsible, Plays Favorites by Continuing to Offer Pensions to Police & Firefighters and Not Teachers
76% of Floridians Agree Unfair to Offer Pensions Police & Fire Personnel, But Not Teachers
PETERSBURG, FL., April 15, 2021 – The Florida Retired Educators Association (FREA) says that legislation passed by the Senate aimed at ending retirement plan choice and pensions for certain new state employees – except for police and firefighters – is a big mistake. The legislation is fiscally irresponsible, would damage the education workforce, and plays favorites among sectors of the public workforce.
"Passing retirement legislation without an analysis of the costs is beyond irresponsible," said Nancy Hosie, a retired St. Lucie County science teacher and president of FREA. "We have yet to see an analysis that examines to cost of the legislation on the existing pension plan. The benefits of the current plan will have to be paid for decades into the future, and the changes enacted likely will increase liabilities and taxpayer costs just like what happened in Michigan."
In Michigan, the State Employees' Retirement System (SERS) pension plan was closed to new-hires when the plan was overfunded with 109 percent of assets on hand. As a result of the changes, the plan funding plummeted to 66.5 percent funded and the unfunded liability skyrocketed to $6 billion of September 30, 2017,
"Moreover, it is outrageous that only certain segments of the Florida public workforce are provided retirement plan choice and pensions," Hosie added. "It's a slap in the face to provide teachers with lesser benefits during a year when school personnel worked tirelessly during the pandemic."
"Florida has a serious problem recruiting and retaining teachers here in Florida – these are the people who prepare our future workforce. This bill further lowers teacher compensation via benefit cuts. It is short-sighted, dangerous and fiscally irresponsible," Hosie said. "We hope House lawmakers will reverse course, examine the costs, and listen to Floridians who support providing competitive benefits to our teachers."
Other states that have replaced pensions with 401(k)-style accounts have seen taxpayer costs escalate while weakening public employers' ability to recruit and retain experienced employees and undermining retirement security.
S.B. 84 flies in the of face fiscal responsibility and public sentiment. Florida lawmakers are wise to carefully examine failed and costly pension experiments in other states and in Palm Beach. The Florida Retirement System (FRS) has a long history as one of the best managed retirement systems in the country. Rather than enacting flawed legislation, we want to work with policymakers to ensure the retirement system is financially strong and provides a modest retirement benefit for all Florida public employees who deliver essential taxpayer services."
The legislation comes as a new state-wide poll finds that Floridians overwhelming support providing pensions benefits for the state's education workforce and believe it is unfair to offer pensions to some Florida public employees, like police officers and firefighters, but not to teachers. The statewide poll of working-age Floridians finds:
There is overwhelming public support for teacher pensions in Florida. Nearly all (87 percent) agree that Florida teachers should continue to have a choice between a pension and a 401(k) account. Three quarters (75 percent) agree that Florida teachers have a better chance at a secure retirement with a pension plan rather than a 401(k) account.
Fairness is important to Floridians. Seventy-nine percent say it's unfair that the state has diverted money from the pension fund to balance the state's budget. Meanwhile, 76 percent agree it would be unfair to offer pensions to some Florida public employees, like police officers and firefighters, but not to teachers.
Floridians want fiscal responsibility when it comes to public employee benefits. Eighty percent agree any changes to teacher retirement benefits should not raise costs to Florida taxpayers, while 73 percent say pensions are a good deal because Florida teachers and investment income cover most of the pension cost. Also, 82 percent agree Florida teachers should continue to have a pension because they help pay the costs.
Floridians say that teacher retirement benefit levels are about right (48 percent) or too low (36 percent). The average retirement benefit for Florida teachers is about $2,051 per month, with nearly three-fourths of the benefits paid by employee contributions (3.5 percent) and investment income (71.3 percent).
Floridians see the workforce value of pensions. Eighty-two percent agree that offering competitive retirement benefits with a pension is important for maintaining good schools because it helps attract and retain good teachers in Florida. Seventy-nine percent agree that pensions help incentivize long teaching careers, which benefits children, schools, and communities. Also, 71 percent agree that Florida teachers should have a pension to compensate for their pay.
The recent FRS funding shortfalls largely can be attributed to Florida lawmakers diverting their required pension contributions to Florida's General Fund during the Great Recession. Legislators used state employees' retirement savings to balance Florida's budget to the detriment of the FRS pension funding. This money still has not been fully returned to the educator's retirement plan, and now legislators have introduced legislation that would make managing the pension fund more difficult, raise taxpayer costs, undermine teachers' retirement, and hurt the state's ability to recruit and retain teachers.
The Florida Retired Educators Association is a not-for-profit, non-partisan organization established in 1954 to serve the economic, social, and professional needs of Florida's retired education professionals. FREA is part of the National Retired Teachers Association and represents the interests of more than 9,000 retired educators in 45 local units across the state. FREA members are actively engaged in serving their local communities and supporting past, future, and active educators. More information is available at www.frea.org.
FREA Members Continue to Give Back and Enhance the World Around Them!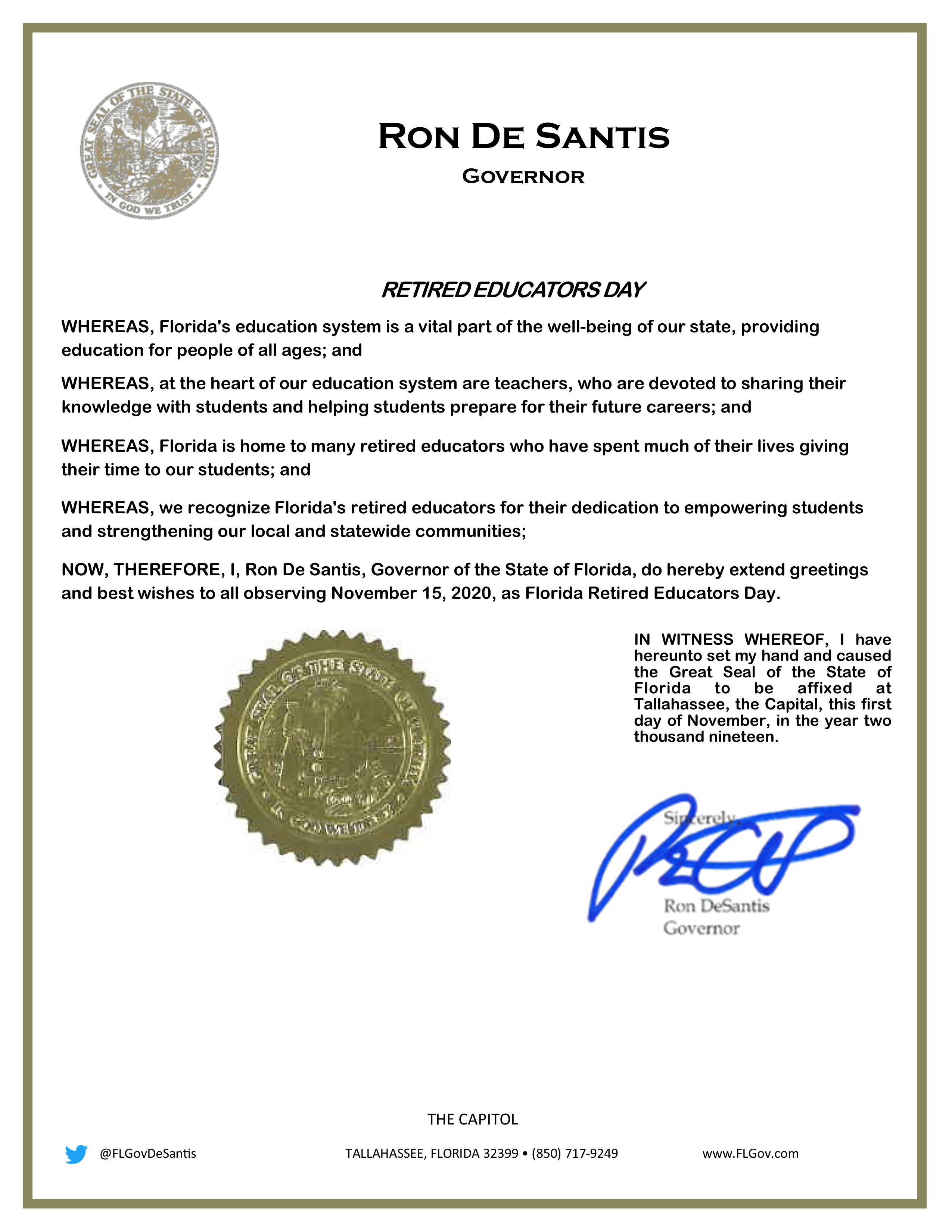 The History of the
Florida Retired Educators Day Proclamation
In 1979, FREA Member Fay M. Milton of MacClenny, FL began a two year quest to create Florida Retired Teachers Day.
The recognition for the day was first requested in 1979 and a proclamation was issued for the 3rd Sunday in October by then Governor Bob Graham.
In 1980 the proclamation was again requested and again Governor Graham proclaimed the 3rd Sunday in October as Florida Retired Teachers Day.
On June 1, 1981 the proposal was passed as a law that the 3rd Sunday in November would be recognized as Florida Retired Teachers' Day.   It was signed by Governor Graham.   This particular date was chosen because it is the Sunday preceding National Education Week, which starts the third Monday of November.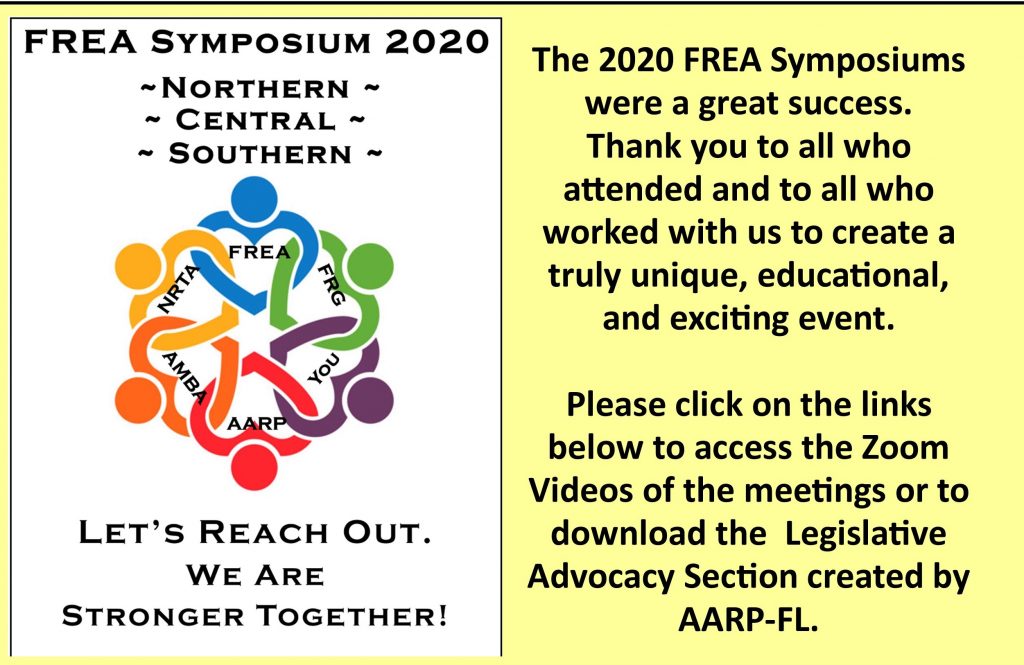 To Download and Print a copy of this map click on the image below.  For information on individual units please go to the Resources page and look for a link to a Website, Facebook page or Newsletter.  If no information is available, please contact the FREA Office: info@frea.org