Middle of May 2020 Update.
Convention 2020 is over.  Did you miss it?  Not hard to do since it was a Virtual Convention and held entirely through videoconferencing meetings on Zoom the week of April 20-24, and the Extravaganza Drawings were held virtually on May 11, 2020.  Results of those drawings will be published in the FREA Summer Bulletin.
From April 20 to April 27, FREA Convention Delegates were asked to use the online ballot sent to them to elect officers, approve the 2020-2021 Budget, and approve The FREA 2020-2021 Legislative Priorities. Since this was our first electronic ballot, some delegates did not vote, as they were busy living their lives and dealing with our current situation.  We did, however receive over half of the delegates votes, achieving the quorum necessary to pass the ballot items. This online voting experience was new for all of us, and should we ever do it again, we now can take lessons from this year, and carry them forward.
Florida is starting to emerge from the COVID-19 crisis.  Parts of the state are going to take longer than others, but our prayers and hopes for a speedy return to normalcy are with you all.   To keep up with the latest news,  you can use the below link to the CDC. Or we have also supplied the link to the Florida.gov website and you can access localized information particular to the county you live in.
https://floridahealthcovid19.gov/   
Please still reach out to those who you know are isolated. The days will seem much longer now that we are coming out of this, because we still have to be safe, and even though the restrictions are being lifted in some areas, in others, the crisis continues.  Please reach out to members that you know do not use the internet or email. Let them know that you are thinking of them. If you have younger family members who are shopping for food for you, ask anyone you speak to if they need someone to shop for them. There are those who may not be blessed to have a support group like yours.
We live in interesting times and we are blessed to be going through this crisis while living in America. Thank you and again, please stay safe and healthy out there!
Anne M Fagan, FREA Executive Director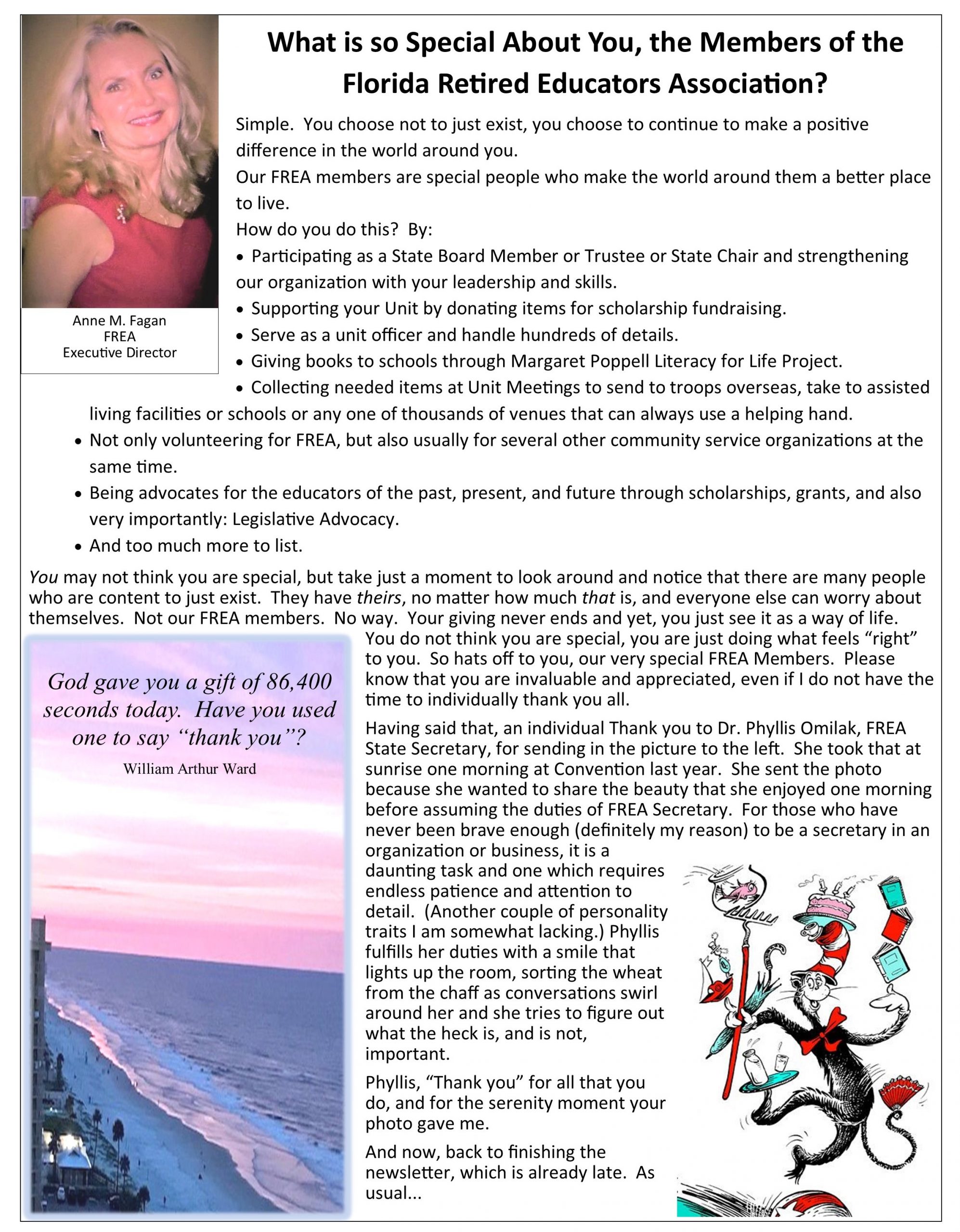 Welcome to the Florida Retired Educators Association!
We are a member organization that welcomes retired and active educators and school personnel; and all others who would like to support our Mission.
Come join the professional organization whose primary mission is to represent you in the Florida Retirement System, and in continuing Ethel Percy Andrus' mission:
To serve, not to be served.
FREA Members in the Community
To Download and Print a copy of this map click on the image below.  For information on individual units please go to the Resources page and look for a link to a Website, Facebook page or Newsletter.  If no information is available, please contact the FREA Office: info@frea.org