Welcome to the Florida Retired Educators Association
Talking points for calling your Senators.
Modify to suit you or use as is. Try using the phrase 'Did you know…?' and then use a statistic from AARP in Florida Pension info sheets you can find here.   
Sample opening line for calling your Senator.
It is a mistake for policymakers to switch new hire education employees from defined benefit pension plans to 401(k) type programs.
Examples:  
Did you know that the spending from pension benefits in Florida pays $5.9 Billion in wages to Florida workers through restaurants, retail, and services?

Did you know the average pension benefit is $1,894 per month? This allows retired state employees to have a modest and independent life in retirement. 

Did you know that pensions are a good deal for taxpayers? Investment income pays most of the pension: $71.3%; Employers pay $25.2%; and Employees pay 3%.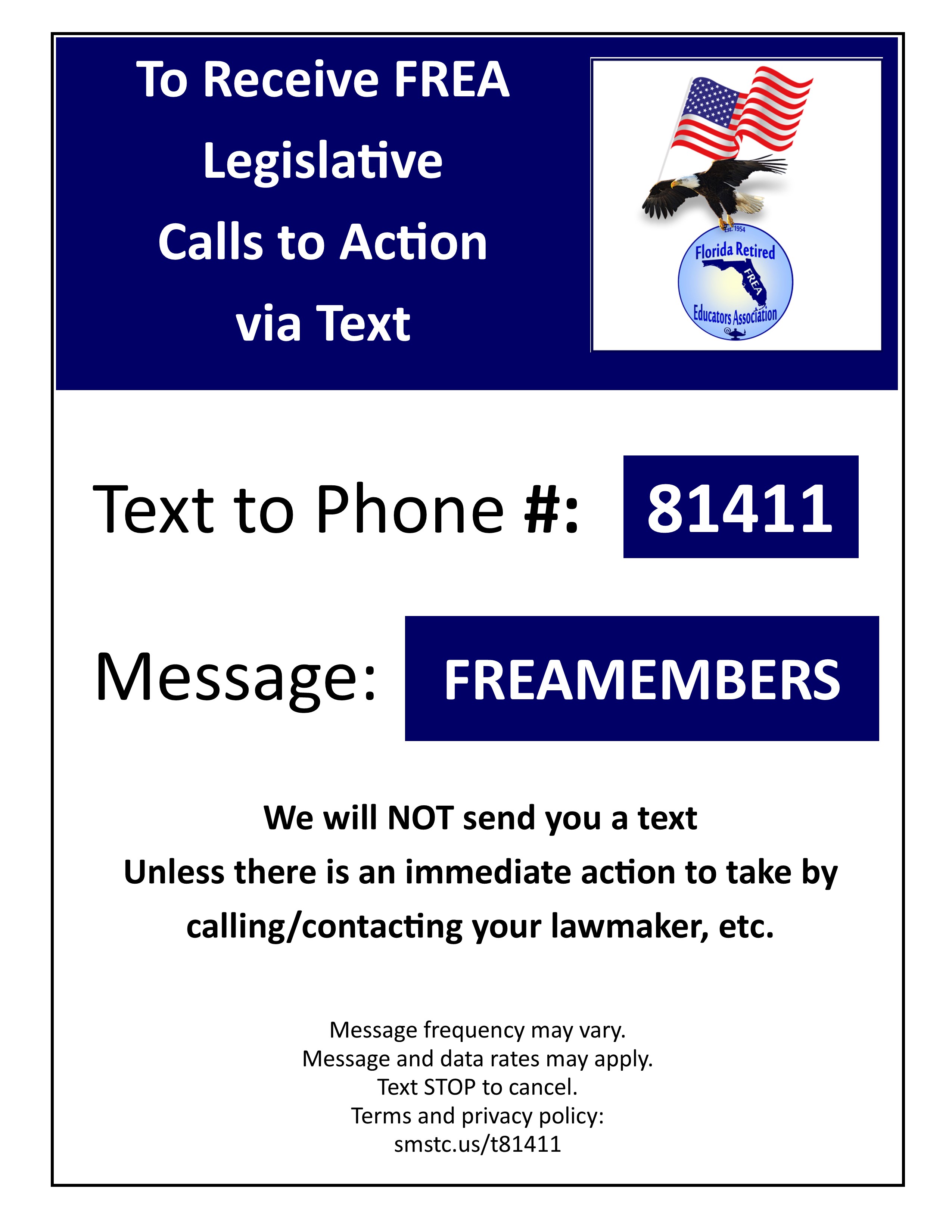 We are Against Senate Bill 84 & the Destruction of the Florida Pension System
SB 84: Retirement
GENERAL BILL by Rodrigues
Retirement; Providing for compulsory membership in the Florida Retirement System Investment Plan for employees initially enrolled on or after a specified date; modifying provisions governing participation in the investment plan for individuals who are eligible to participate in the State University System Optional Retirement Program to conform to changes made by the act; modifying provisions governing the administration of the investment plan to reflect compulsory membership for specified employees, etc.
Effective Date: 
7/1/2021
Last Action:
 2/4/2021 Senate - Now in Appropriations
Bill Text:
Web Page
 | 
PDF
What can you do to stop the passing of SB 84?  Right now, call the members of the Senate Appropriations Committee (list below), especially those who are in your Senate District. Don't know who your State Senators are?  Also below is a link to the Senate website.  You can find your Senator there. And...on this page are some tools to help you.
While you are doing that, FREA is working for you to make sure that your pension, and the pensions of hundreds of thousands of retirees and state employees are protected. We will send you email alerts and updates throughout the process.
Do you call your Legislator and then not know what to say?  A few tips in this document can help you make effective phone calls that make your point clear, and make an impact.
A Cautionary Tale on Pension Reform
Here in (city/county) we have thousands of educators, school, police, public and fire department employees who are enrolled in the Florida Retirement System (FRS) pension fund. A pension fund which is one of the best-funded in the country. When they retire, their pensions will help support the economic health of our communities and state.
However, there is a new bill in the Florida Senate, SB 84, that will remove choice and force new-hire state employees into 401(k)-type defined contribution (DC) plans. New hires will no longer be allowed to enter the (Defined Benefit or DB) pension fund. This a mistake that will likely cause taxpayer costs to skyrocket, as has happened in other states, and hurt Florida's ability to recruit and retain high quality teachers. Also, even if the amendment under discussion exempts police and fire department employees from the DB to DC switch, the future unavoidable erosion of the pension plans funds would erode their future pensions also.
FREA Members Continue to Give Back and Enhance the World Around Them!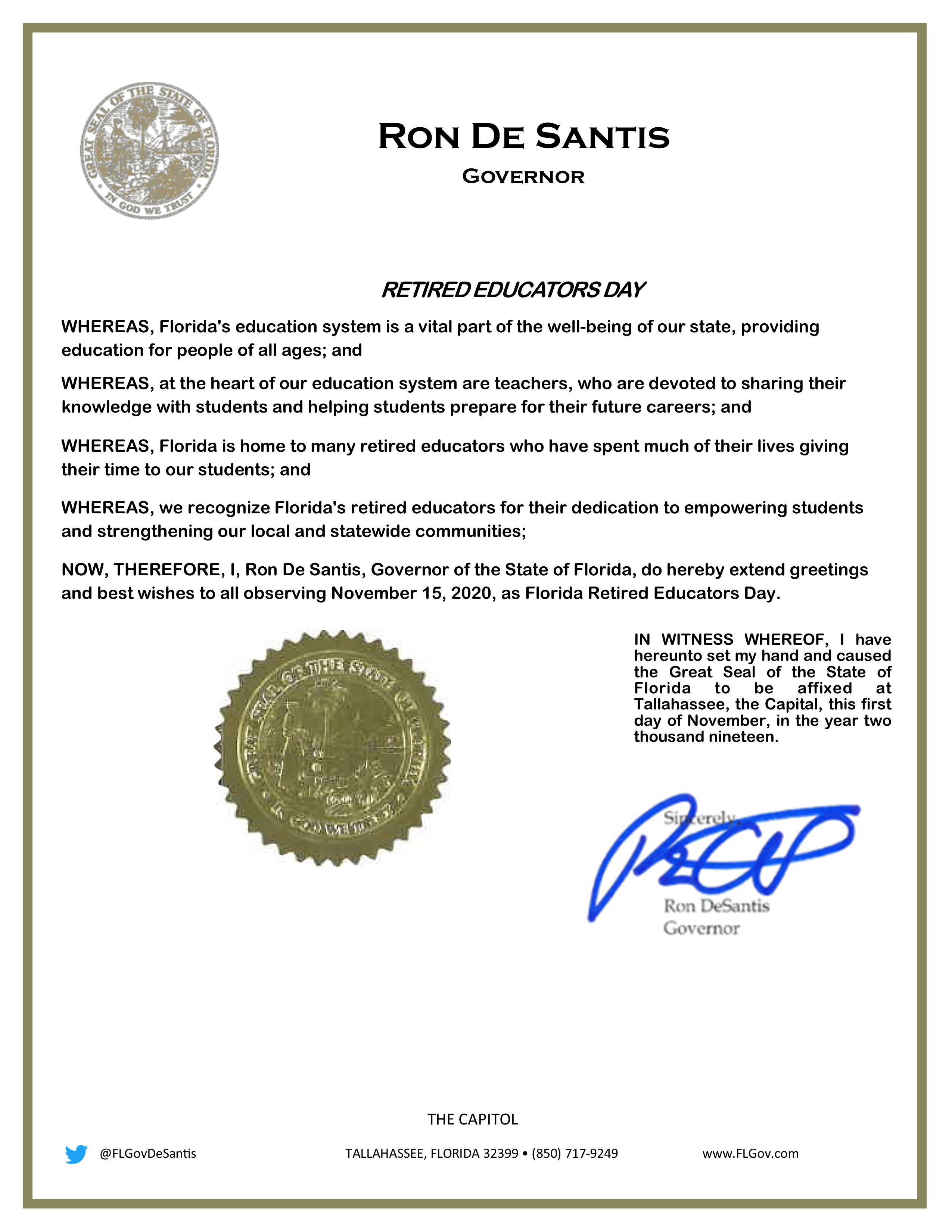 The History of the
Florida Retired Educators Day Proclamation
In 1979, FREA Member Fay M. Milton of MacClenny, FL began a two year quest to create Florida Retired Teachers Day.
The recognition for the day was first requested in 1979 and a proclamation was issued for the 3rd Sunday in October by then Governor Bob Graham.
In 1980 the proclamation was again requested and again Governor Graham proclaimed the 3rd Sunday in October as Florida Retired Teachers Day.
On June 1, 1981 the proposal was passed as a law that the 3rd Sunday in November would be recognized as Florida Retired Teachers' Day.   It was signed by Governor Graham.   This particular date was chosen because it is the Sunday preceding National Education Week, which starts the third Monday of November.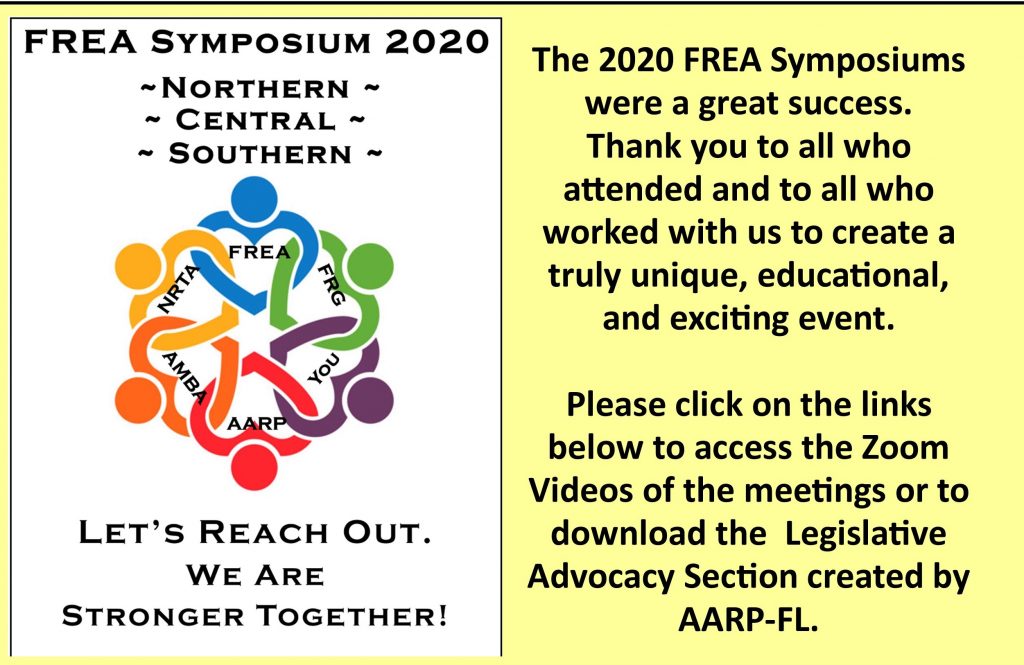 To Download and Print a copy of this map click on the image below.  For information on individual units please go to the Resources page and look for a link to a Website, Facebook page or Newsletter.  If no information is available, please contact the FREA Office: info@frea.org