To apply for a NEW Scholarship, please read the instructions carefully, the application link is below.
FREF Scholarship Application process for 2023-2024 is now open for Future Educators Only.
Application deadline  - January 20, 2024.
If you have already submitted an application, all required materials must be to the FREA Office by January 31, 2024.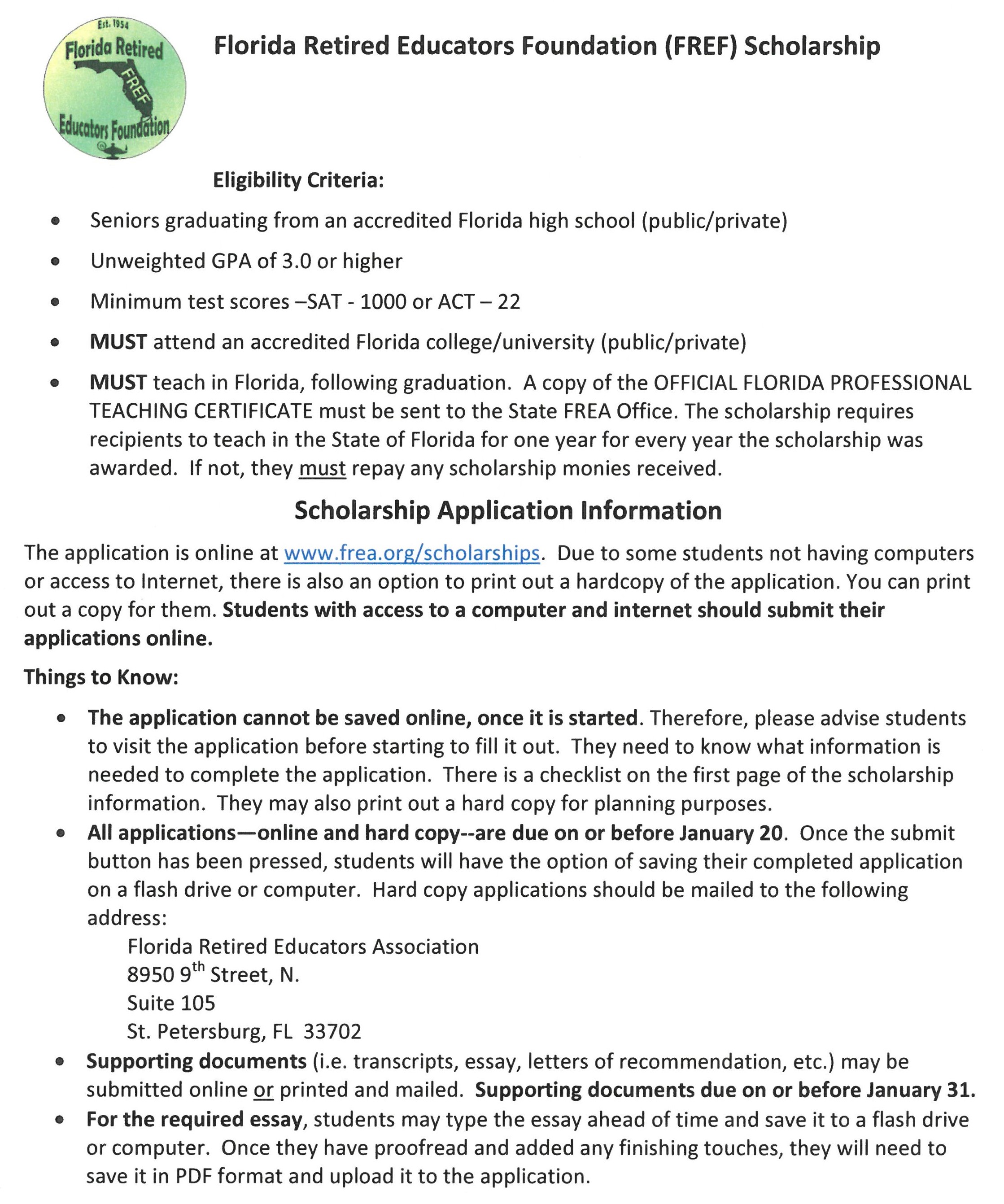 It is impossible to estimate the contribution a great teacher makes to our nation, to society, and to the students taught during a lifetime of devoted service to the teaching profession. Unfortunately, there exists, and always has existed, a severe shortage of great teachers. The Florida Retired Educators Foundation (FREF) has established a fund to assist the many young people who are interested in teaching, but unable to fulfill this goal without financial assistance.
CHECKLIST FOR NEW FREF SCHOLARSHIP SUBMISSION  -
Once Online Application is started, it cannot be saved. If you exit, you will have to start all over.  
Info needed to fill out application fully:
Family Income
Community Service Information
Leadership Info
2 References with full contact info

Completed Application - online only, button below, cannot be printed and handwritten

Single page typed essay 

Recommendation Letters 

Official high school transcript with ACT or SAT scores circled. In the event the ACT/SAT scores are not printed on the transcript, a student applying for this scholarship must supply these scores.  If the school needs to send transcripts to FREA directly, that is acceptable. Our address is below. 

Submit your application by January 20.  All transcripts and supporting paperwork, not available to be uploaded with application, must reach the FREA Office by January 31.

Questions? info@frea.org or 727-577-6400
ALL above information must be received by the FREA Office before being submitted to local FREA Units for the next step, which is an in-person interview.